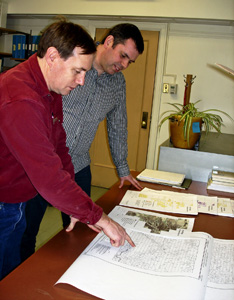 The HGIS Lab provides consulting services to undertake entire GIS projects for clients, custom-designed to fit your needs.  If you have historical spatial information or archival maps, we can help you organize them into a GIS that permits systematic description, powerful analysis, and high-quality representation of historical information.
Our basic charge is $40/hour.  Depending on size and complexity, turn-key HGIS projects typically cost from a few thousand to a few tens of thousands of dollars and are supported by external research funding.
Get in touch with us to request a price quote.